Strained relations affecting China-Canada business relations
---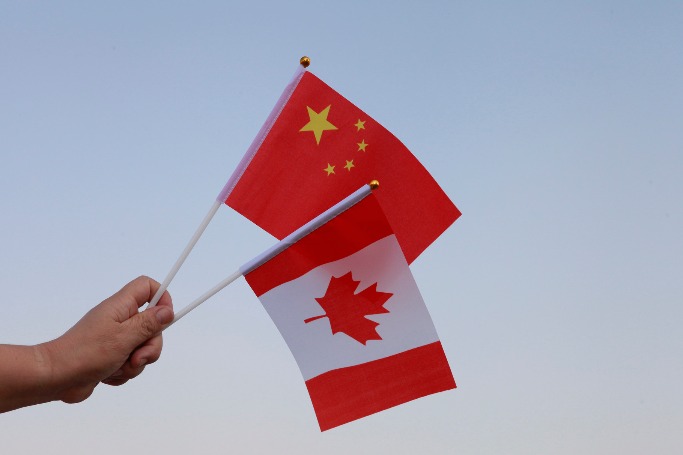 The investment environment for China and Canada has been constrained in a variety of high-tech areas, according to the executive director of a business group and a recent survey.
"It goes hand in hand with the US-China tensions and the actions the US has taken against Chinese companies," Sarah Kutulakos, executive director of the Canada China Business Council (CCBC), told China Daily.
A report on Chinese companies' business practices and their impact in Canada found that the performance and business practices of Chinese multinational enterprises (MNEs) in Canada have been affected by unstable bilateral relations.
The survey conducted by the China Institute at the University of Alberta and the CCBC shows that although the impact of the frosty relations between Canada and China has not been as great as expected and has not had Directly impacting the growth of their business in Canada, Chinese companies in the security-related high-tech sectors have been "hardest hit" by the strained relationship.
For example, two Chinese high-tech companies in Canada experienced a significant drop in sales after 2018 and struggled to develop and maintain relationships with suppliers and customers.
"Both said it was also a consequence of the state of China-US relations and related regulations," the report said.
Chinese telecommunications and security companies see close ties and a stable political environment as essential to their future growth in Canada. Instead, many companies said cold relationships were "difficult" to navigate, though the impact was often indirect.
Kutulakos said Chinese companies are affected in a variety of high-tech sectors, from telecommunications, where there have been specific exclusions, to artificial intelligence, where it is often difficult to know what is "incoming" or "off limits" to other types of tech, where the line between civilian and military applications may not be clear.
"In my view, the biggest result is a disincentive to investment by Chinese companies, who may fear that investment will be denied for national security reasons," she said.
The China Institute's China-Canada Investment Tracker database shows that the flow of Chinese investment into Canada grew rapidly until 2017, before China's tightening policy for overseas investment entered in force.
However, Chinese investments in Canada have come under scrutiny for national security, labor conditions and environmental impact in recent years.
In fact, 75% of respondents indicated that the changing relationship between Canada and China has had a negative impact on their business in Canada. Compliance issues and public relations are among the major factors affecting Chinese companies' overseas investment decisions.
The survey found that while partnerships between Canadian and Chinese companies are common, Canadian public sector supply chains "rarely" include Chinese companies. Moreover, "very few" Chinese companies have received financial support from the Canadian government.
"Only a handful of Chinese companies have developed business collaborations with the Canadian public sector or participated in public-private partnership projects," the report said.
As the survey results indicate, the regulatory environment in Canada is generally stable, although there are some concerns about the stringency of policies. However, some companies said the regulatory environment has tightened for Chinese connections in their business since their initial investment.
On the other hand, many argue that Canada's benefits from job creation, product and service diversification, and global value chain integration of Chinese companies generally outweigh the risks of investments. Chinese, according to the report.
Contrary to the negative impact on Chinese companies, the survey shows that Chinese companies have made a great contribution to Canada through job creation, government tax revenue, investment, greater consumer choice, improving exports of products and services, the Canadian supply chain and greater social responsibility.
Most Chinese companies hire locally, although this is less often the case for management personnel.
The survey shows that Chinese companies are actively engaging in corporate social responsibility (CSR) activities in Canada. Eighty-five percent of Chinese companies surveyed reported CSR practices within Canadian communities.
The survey also demonstrates the impact of Chinese companies on the competitive landscape of local markets, as 62.5% of respondents believe their operations in Canada have had a significant impact on the competitive structure of the market.
Some respondents said they improved product variety with differentiated products and services, some of them felt they were filling a gap in the market with very different products and services.
Relations between Canada and China have deteriorated significantly in recent years since Huawei Technologies executive Meng Wanzhou was arrested by Canada at the request of the United States in December 2018. Relations between the two countries remain strained and must be reinstated even after Meng's release, experts said.
Asked how relations could get back on track and business sectors restarted, CCBC's Kutulakos noted that the most important step is the resumption of regular dialogue for the business community, in particular the economic and financial strategic dialogue, which was last held in 2018.
"Regular bilateral exchanges such as the EFSD (European Fund for Sustainable Development) enable the two countries to raise and resolve issues affecting the business world," she said.
Although facing challenges such as strained bilateral relations and the COVID-19 pandemic, respondents from Chinese companies were generally optimistic about the future as the effects of the pandemic are slowly dissipating, according to the report.
Looking ahead, "all interviewees confirmed that their businesses would continue to operate and invest in Canada, despite some being negatively impacted by political tensions and the COVID-19 pandemic," the report concludes. report.